Good British food is hard to come by these days, when Dan and I choose to go out we often opt for something a little bit different, be that Lebanese, Thai or even Caribbean. That said I think there is something to be said for good well cooked British food and I think I may have found the best place for some seasonal, good British style grub. Toms Kitchen owned by Tom Aiken, who is one of Britain's acclaimed Chefs and also all one of the youngest chef in the UK to win two Michelin stars -snazzy aye. The idea behind Toms Kitchen is to provide ethically sourced and high quality seasonal ingredients which I would say is pretty good ethos. We were kindly invited to try the food at the Canary Wharf branch and well, not gunna lie to your guys it was bloody good. Here is what we had and we thought.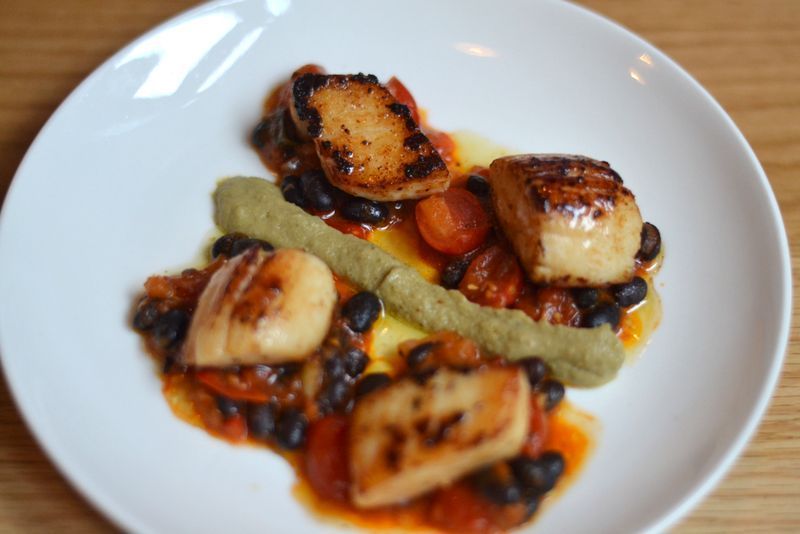 My choice for starter was hand dived scallops with an aubergine puree and black beans, I love a good scallop, especially when cooked properly and I can confirm these were perfectly cooked, soft and succulent. The smokey puree and fresh cherry tomatoes were delightful, the beans however - not for me. I am not really a bean fan, and these for me didn't make a huge difference to the dish.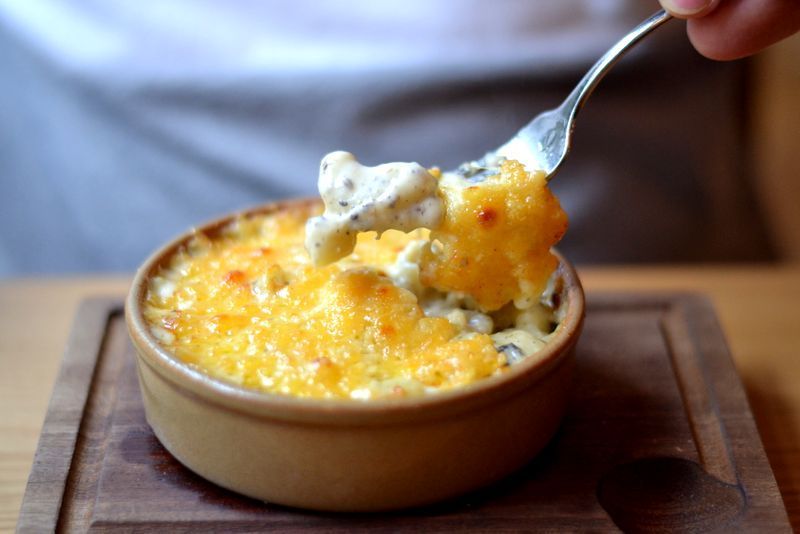 Dan went for the intently gooey rich and cheesy truffle macaroni. Oh-ma-gawd this was delicious,. It definitely works as a starter because I think as a main it might be a little too rich. Just look at that bubbly cheese though *drools*
MAINS

~Deciding my main was the hardest thing ever, there were so many things I wanted to try and having already had a nosey on Instagram before arriving it made choosing even more hard - everything looked so good. I finally decided on the Barbecue baby chicken with a Quinoa salad which was on the specials menu. The chicken was tender and and juicy the barbecue sauce was really lovely and tangy, I only wished there was more of it. Sadly the Quinoa salad wasn't great but only because it was made with fresh coriander which I really, really dislike, that said it was perfectly cooked, fluffy and full of flavor. Serves me right for not checking before hand.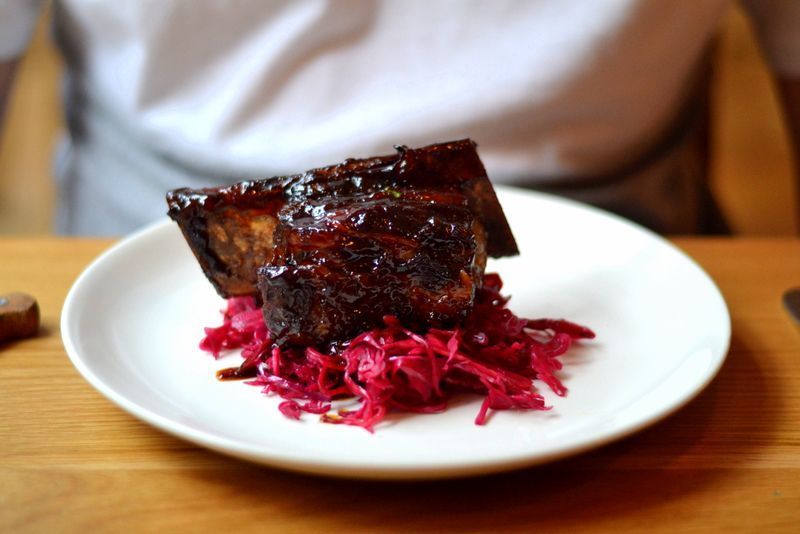 Well some major food envy happened when Dan got served his Jack Daniels short ribs with braised red cabbage I mean seriously, just look at the shine on that glaze. Obvs I had a bite and the meat was so tender, the sauce was tangy but not over powering and complimented perfectly with the red cabbage. Honestly though there was hardly any meat on Dan's portion, maybe he got an unlucky piece or maybe short ribs have less meat in general. Still, he loved them all the same and as he was stuffed from the Macaroni Truffle cheese he wasn't too bothered especially as he also ordered a side of onion rings and triple cooked chips, which might I add were also excellent.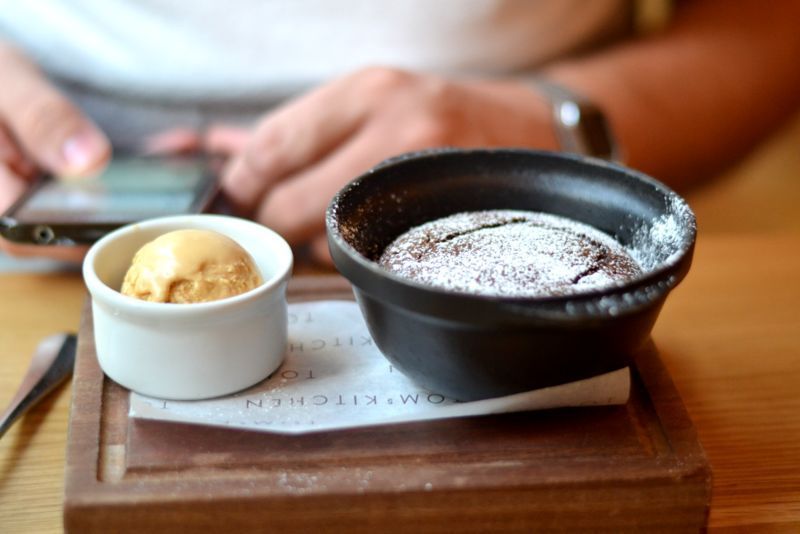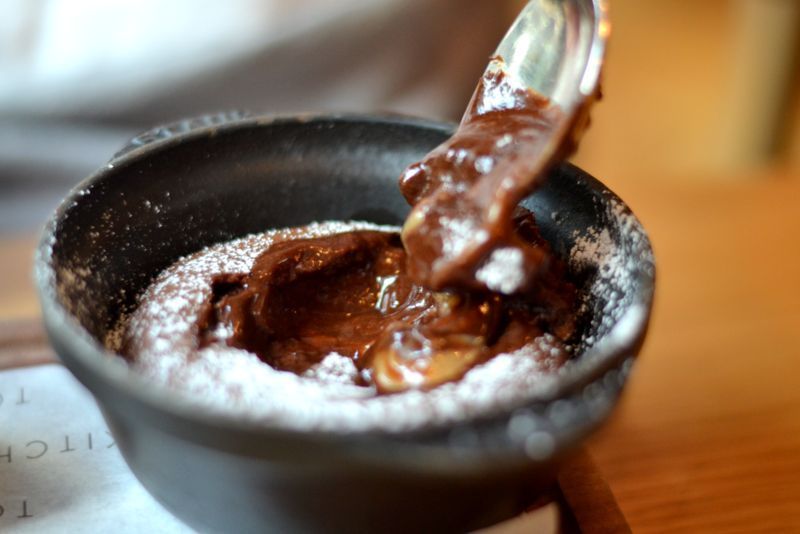 Take a guess at who ordered this bad boy. Gooey chocolate and Peanut butter fondant. it just has Dan written all over it. Again FOMO set in, so we shared and it was up there as one of the best desserts I have ever had, just an all over magical experience, especially the salted caramel ice cream.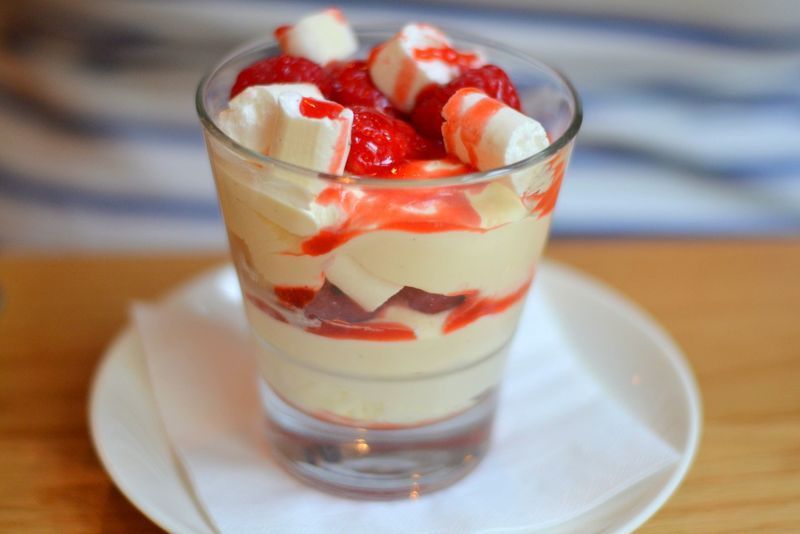 My traditional Eton mess paled in comparison to be honest, the raspberries were divine as was the coulis but it just wasn't chocolate and peanut butter so it just didn't live up. If you go just get the chocolate and peanut butter dessert, you owe it to your taste buds.



Very, very good tasting and well presented food, a little higher in price than your usual British food joint, but being that all food is sourced sustainably I would say it was worth it. Plus the food is really delicious and the quality is relevant. You can find

Toms Kitchen

in Canary Wharf, Chelsea, St Katherines Dock and Somerset House.







Labels: food, London Eats, London Foodie Spots