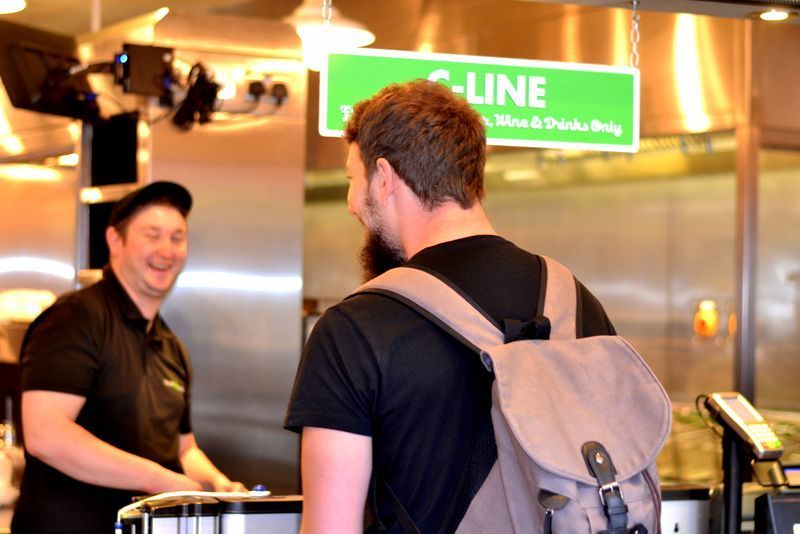 UNPOPULAR OPINION: I'm not that fussed on burgers. I know, I know, I'm just not that into them, I said this same thing about Pizza and people damn near lost their minds. I don't know why but they just don't appeal to me that much. However, that said over the years I've heard of a number of places where there are simply unmissable burgers to be had.
Shake Shack
is one of them. Around 3 years ago I took an exciting trip to America to visit some friends, during my stay I visited Baltimore, Washington and of course the very special NYC. There was a huge queue out of the door and people seemed to just be loving life eating their meals. I only had a small bite of a friends burger and a Frozen custard but I was impressed. Fast forward a few years and I found myself in London's very own Shake Shack in the newly opened
Stratford branch.
Lucky for Dan who is the biggest burger fan in the world I took him along to be the real judge of the burger. The inside of Shake Shack reminds me of all the american TV programs burger places looked like, it was definitely nothing like the inside of a MacDonalds that's for sure. Its very much a self service place but made much easier by the little buzzer you are given which tells you when your meal is ready to collect, saves the hanging around at the checkout which is a-ok with me.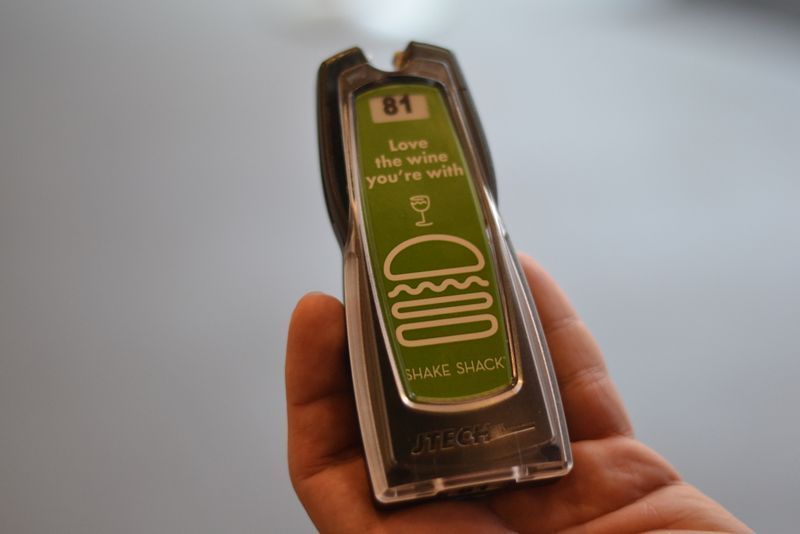 Well as burgers go these I cannot lie - these were well nice. Like, 5 Guys has nothing on this, this to me was the far superior burger. I chose the Shack Burger which was single cheese burger, with crispy shallots and shack sauce in a soft steamed bun. Dan went for the 'Smokeshack' Cheeseburger topped with all-natural applewood smoked bacon, chopped cherry pepper and ShackSauce. Out of the two I preffered mine because I just live for fried onions, however the sauce on Dan's was yuuuuum. The cheesy fries were next on our list and whilst they looked incredible after a few bites I was about to burst and felt sick. I think if I went again I would go for the plain crinkle fries, keep it nice and simple. The good thing about these burgers is they are made of 100% Angus British beef with no hormones or antibiotic used at all. Oh and no additives or secret hidden nasties just a nice tasty beef burger. They also do flat top hot dogs for the non burger lovers like me out there, although sadly I am not a hot dog lover either so can't tell you the deets on that one.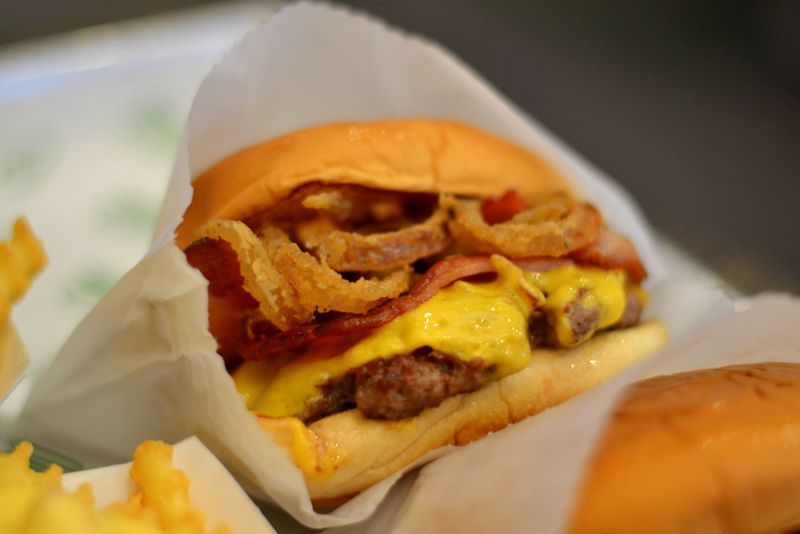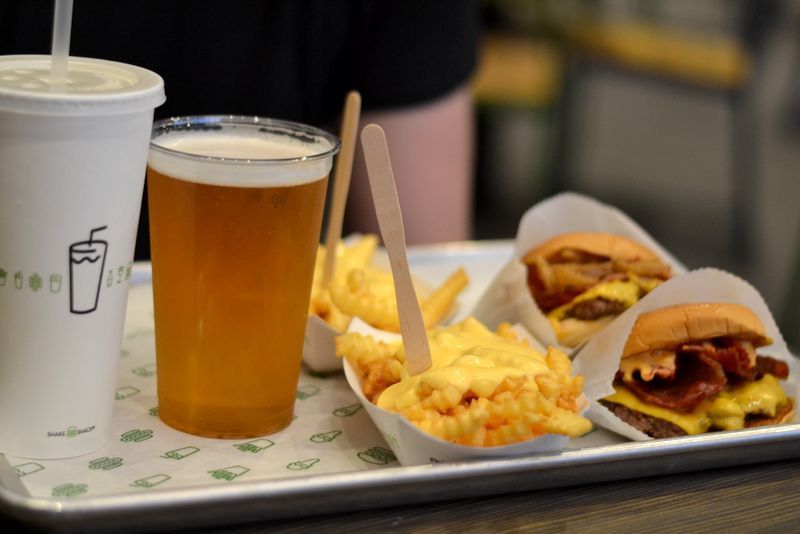 Beer is not my thing, however it is Dan's so he was well impressed with the option of the crafted beer, nice little after work treat to go with a delicious tasty meal. I opted for the fresh home made lemonade which was the bomb. I love home made lemonade especially when its not fizzy, with tons of ice this is my perfect drink. Now on to the desserts as mentioned above when I went to NYC the frozen custard was what I tried, it was really nice, creamy and thick. The same applied for this one, except what I loved was the some of the products were sourced from the local and now rather infamous St John Bakery. We ordered the the Peanut butter crunchcrete made with the locally sourced brownie, peanut butter sauce and chocolate toffee and we whipped up our own recipe of strawberry cheesecake, marshmallow fluff and brown sugar biscuit and OHMAGAWD it was good




As you can imagine we were suitably stuffed after all this yumminess, so obviously I convinced Dan that we should walk it off with a spot of shopping around Westfield. It was a lovely evening, staff were helpful, chatty and friendly. If you like burgers and amazing frozen custard ice cream in super speedy time.. this place is for you.




Thank you to Shake Shack Westfield who provided this lovely meal complimentary as always my daft foodie opinions are my own.

Labels: food, London Eats, London Foodie Spots