In my opinion one of the finest pleasures in life is Brunch. It's that in-betweeny time where you get the benefits of both breakfast and lunch time foods and there is nothing better than curing a Friday hangover with a healthy helping of golden eggs and buttery toast. Since Dan and I live a stone throw away from so many restaurants in Putney we decided to try Wallace & Co. The restaurant its self is the brainchild of one of my favorite TV chef personalities Gregg Wallace. I had passed it so often and would always admire how pretty it was both inside and out. With delicate fairly lights dotted outside, and inside with its rustic decor it looked pleasant and inviting. However I am sad to say that when we visited a couple of months ago I was less than disappointed with the standards of the service and the food. I thought I would share with you my experience today.
When we arrived we asked for an outside table as it was a bright day, and we were seated with our menu. After meandering through the large choice of brunch items we decided to both go for a rowers breakfast. It seemed like a good shout as it included fruit and granola, beans, eggs (any way you liked) jam and a fresh pot of tea. We both assumed that the granola and fruit would be a small portion on the side of the plate instead it was a huge bowl - which we were both fine with as we were fairly hungry. The yogurt was delicious as was the granola however some of the fruit wasn't as fresh as I would have liked, especially the melon.
That wasn't the only thing that wasn't really up to standard, the wait between our next part of the brunch was quite substantial and when it finally did come out we were sat there for a good few minutes with no cutlery. I tried to get the attention of the waiter but eventually I had to get up and ask for some.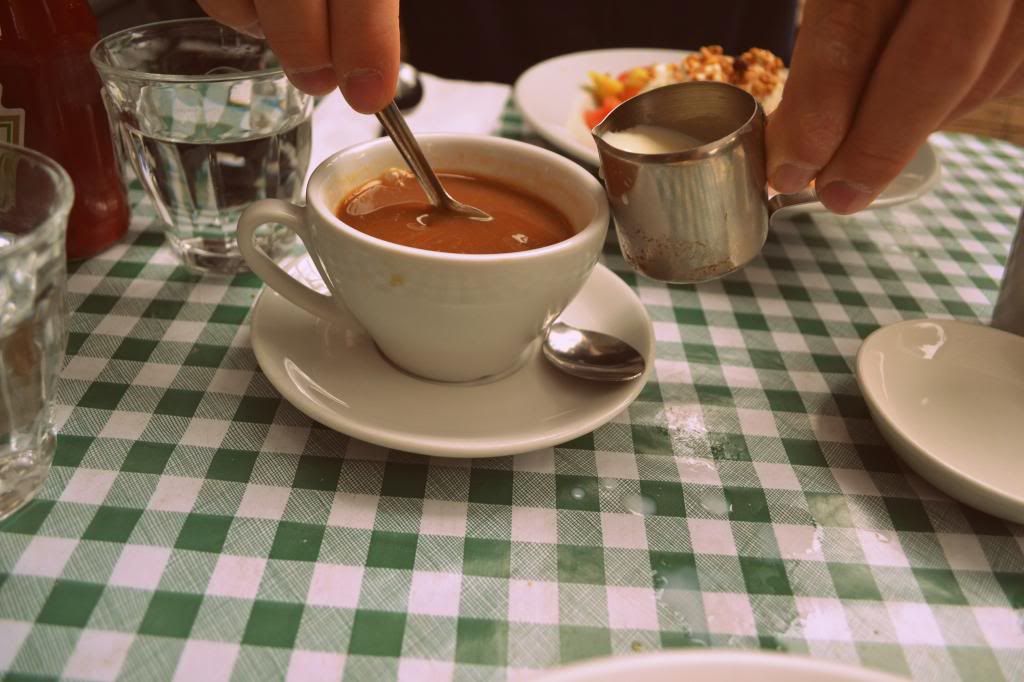 Here is the second part of the Rowers breakfast.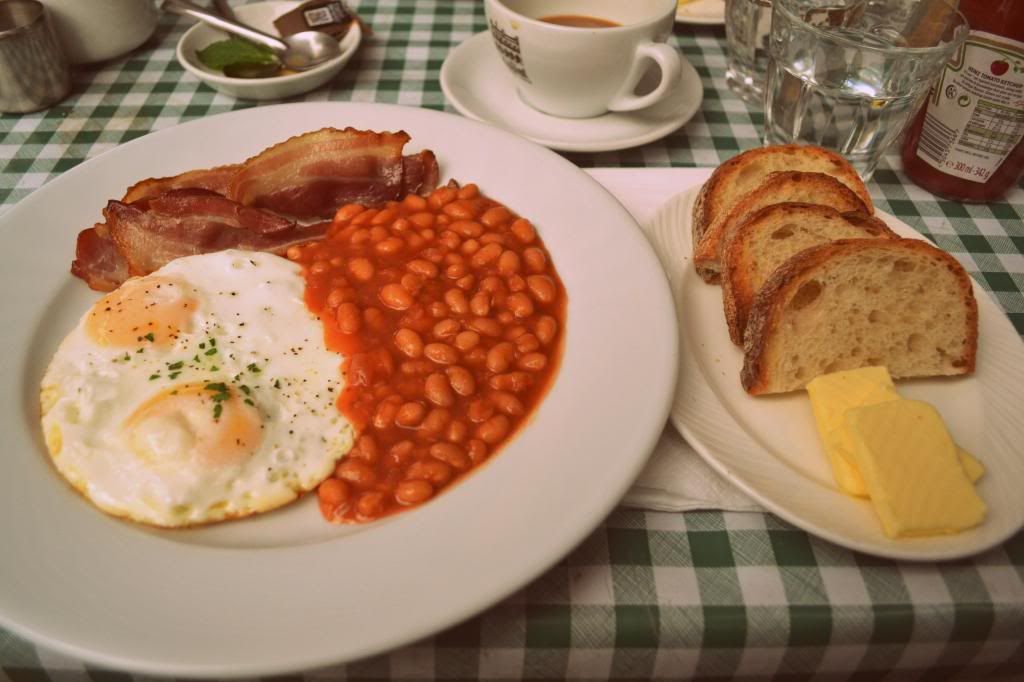 To be honest I could not fault this, the eggs were lovely and golden, bacon was smokey and tasty. The tea itself wasn't as hot as I would have liked but over all it was fairly nice we also never received the jam which was stated in the description but it wasn't too much of a big deal. Yet again we had to wait, but this time for the bill. I personally got the feeling that the waiters were more focused on serving the older clientele than us. I was hesitant to post this because I thought that maybe I was being a little nit picky until I decided to give the restaurant another shot. One morning a few weeks ago before dropping my friend to the station I decided to pop back in to take her for breakfast. I ordered the 'Scotch Pancakes Bacon and syrup and literally couldn't eat it. The pancakes were saturated in syrup and were just too sweet,normally syrup is added on the side however this was caked in it. As I couldn't eat it I ordered a side scrambled eggs to accompany the bacon that I had on the plate, it took so long to come that my friend had already eaten her sausage sandwich. The waiter who served me was lovely so again I tipped but to be honest I don't think I will be going back again. I hate doing negative reviews but as a local to Putney and literally a 50 second walk from the place I was just too disappointed to not write about it. I actually saw Gregg Wallace in East Putney station a few weeks back and was ever so tempted to go over and talk about my experience. I decided against it, but sadly I won't be paying this place a visit again. (
Please note that I haven't linked the website in because it currently isn't working. )
How do you feel about giving negative reviews, would you tip at a restaurant if the service wasn't up to scratch?
Labels: Foodie Reviews, London Eats, London Foodie Spots