It is no secret to anyone that I am a total foodie. Cooking, baking, you name it I love it. Living in London perhaps has aided to my foodie obsessions as there are so many impressive restaurants, and fantastic street food stalls scattered all around that its hard not to get drawn in. I have heard a lot about the different branches of
Breakfast Club
so when we ended up there for dinner on Saturday night after the BPSFW I was excited to see what all the fuss was about. My first impressions were positive, the place was full, which is always a good sign in my eyes, not so fun when you have to queue for a table, but the staff were friendly and helpful and the time went fairly quickly.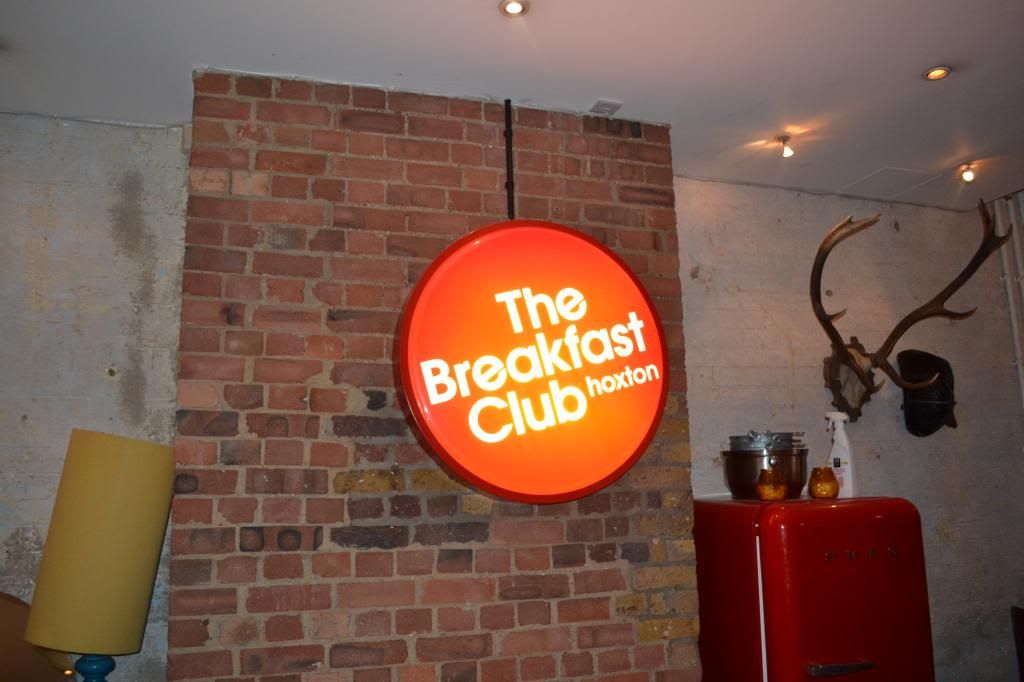 Although the place itself was small I really loved the set up, it had lots of cool furniture, brick walls, wooden tables and cosy little sofa's. Perfect for a chilled dinner after work with a friend or a date. There were 8 of us in total so there was a wait for a table, but the staff were so friendly and chatty, they kept us updated and assured us they would seat us as soon as they could. The hostess was also kind enough to charge our phones for us whilst we waited (social media addicts) When we were finally seated we went straight to the cocktails page. I opted for a Passion Fruit Mojito.
I have to say this was a total letdown for me. Cocktails are my favourite and this Mojito was really quite flavourless, it tasted more of soda water than anything else, the passion fruit was tasty but was let down by the use of brown, clearly old mint leaves which you can see above in my photo.
Dinner on the other hand was most definitely not disappointing. My choice was 'APPLEWOOD SMOKED CHEDDAR, MUSHROOM & CARAMELISED RED ONION CHUTNEY.' I have had many a burger in my time and some have been bland and average. This burger was perfect for the price range. I love the chargrilled taste you get when you have a burger off a BBQ in the summer, this had that exact flavour and at just £10.70 I was impressed. The skin on chips were to die for and the coldslaw was creamy and fresh however they were a bit shabby on the portions.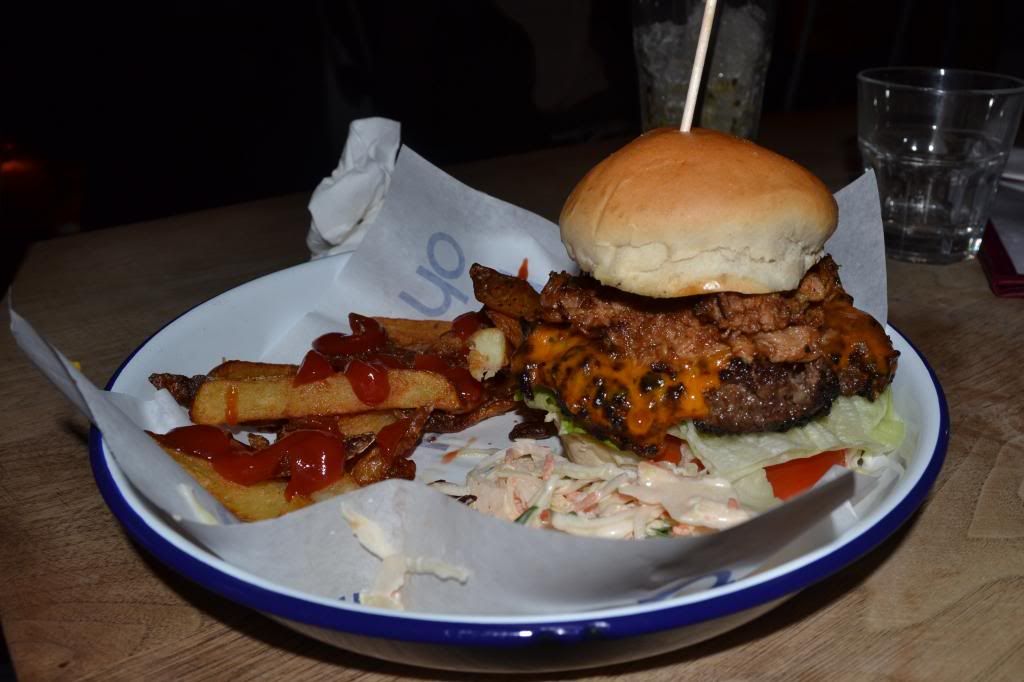 Amy
ordered the COW VS PIG BURGER which was a burger patty topped with BBQ pulled pork, cheese and gherkins. I had a cheeky taste of the pork and it was so soft and had a gentle BBQ taste to it, still allowing the full flavour of the pork to come through.
Need I tell you how amazing this brownie was? Just look at it! Gooey chocolate decadence, creamy vanilla ice-cream uhh pure heaven. This was the prefect ending to the evening, us girls chatted whilst listening to a 90's playlist. I was super full and super impressed with the evening as a whole. If you would like to check out the Breakfast Club you can find their website
here
. I will definitely be going again but maybe this time actually for Breakfast!
Labels: Foodie Reviews, London, London Eats