This kind of post may not be in line with what I normally do, but as you may have noticed if you read my blog I just LOVE a good holiday/trip away/day out. I often get asked how do you manage to afford all these trips. At first I found this quite rude, I mean my finances aren't really anyone's business but I thought well I have no real problem in sharing this as I am such a bargain hunter that all my trips away have been carefully planned on quite small budgets. If there is one thing I am organised with, it is planning. I love planning my holidays, my birthdays my finances. It's all really a sad state of affairs, but due to my, on verge of obsessive behavior I have managed to go on some bloody brilliant holidays so I thought I would let you into some tricks.
1. Flights and Train sales
If you are clever and do your research you can get flights as low as 1p. I kid you not people, Ryanair often has a penny sale where they sell flights for just 1p and all you pay is tax. This is a great opportunity for you to go away on a budget, and try somewhere you normally wouldn't think of going. Many people think that it is more expensive to go abroad than to stay in the UK. This isn't always the case, sometimes train tickets for UK destinations are way more expensive than a return flight to Madrid for example. Take some time to look on the websites and see what the prices are like for the times you would like to go away!
Here are a list of Flight and Train websites I use:
Ryanair
2. Book Ahead
My main recommendation is to try and work out the holidays or days off you want to take ahead of time so you have lots of time to save up and get the cheapest flights of train fares possible. The early bird catches the worm people. I usually sit down and think of a list of events that are up and coming i.e. My birthday, Dan's birthday other friends birthdays, valentines days, anniversaries. It might seem pedantic but I have managed to be away on these special occasions with such cheap deals. Also, be wise and see if you can take some annual leave days either side of a bank holiday, that way you get a nice long weekend away with sometimes using just one days annual leave.
I am TripAdvisor's biggest fan, when ever I book to go any where I always pop on to the website to have a nosy at real visitors photos, and have a read of the reviews as they are often full of excellent tips for exploring the area of places or things to avoid. My advise is to not be put off by negative views if there are also lots of positive ones, what annoys one person may not annoy another so try and focus on the good reviews rather than the bad.
So I have only just discovered this amazing website! It is wonderful, basically it is a website that advertises accommodation in over 192 countries around the world such as flat/apartments/cottages/rooms. It is a social website where people advertise their properties showing a list of photos of the property and prices for the days you wish to stay. What I love most about the website is that you can also see reviews from previous guests and you can see a profile about the person you are renting the property from. It is a much safer way to finding somewhere to stay for both parties. When you choose your property and make your payment they hold the payment until 24 hours after you check in. This means less worrying about getting ripped off and works perfectly as there is a middle man to help of you have any complaints. I recently stayed in an apartment in Paris for Christmas, it was beautiful and just perfect for a few days away, the host was also wonderful and really helpful. (See photo below)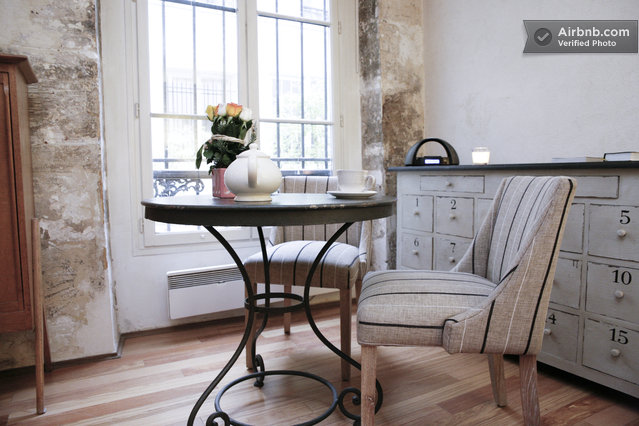 If you really hate the whole planning thing then I would then recommend that you try a site like Groupon. As well as selling bargain products Groupon also sells bargain trips away. Sometimes these include flights and accommodation if you see any that catch your fancy, have a look at whether the dates suit you, TripAdvisor the accommodation and if it is up to standard book book book! Make sure you read the small print carefully as many of these offers are non-refundable.
So yep I think that is about it...I hope this post was helpful, I am sure I have missed something out but feel free to tweet me or comment below if you have any questions.

Callie xoxo
Labels: Thrifty tips, Travels